2022's 10 Best

Weight Loss Shakes
Updated: September 4, 2019
Who doesn't want to drop a few inches around their waist or look down at the scale and see a lower number? Weight loss is a common goal of people around the world, and losing weight can help you look better, feel more confident, and increase your overall health. Starting the weight loss journey can feel difficult, but finding somewhere to start is the best way to begin achieving your health goals.
Weight loss shakes are a great way to kickstart your weight loss. One of the fundamental principles behind weight loss is that you need to burn more calories each day than you consume. While you can approach this with lots of exercise to help burn more calories, one of the easiest ways for this to work is by decreasing the number of calories you take in, and weight loss shakes are a great way to do this.
How Weight Loss Shakes Work
Weight loss shakes are packed with nutrients and protein to provide you with plenty of energy to get you through the day. These shakes limit extra fats and carbohydrates, keeping your overall calorie count down. They are sometimes known as meal-replacement shakes and are often used for this purpose.
Replacing a meal or two each day with a nutrient-filled shake allows your body to increase its calorie deficit, helping you decrease weight while staying healthy. Some people think that reducing the number of calories they eat each day means starving themselves. They think that by not eating much of anything, all of their fat stores will get used up, and they'll be down to their dream weight in no time.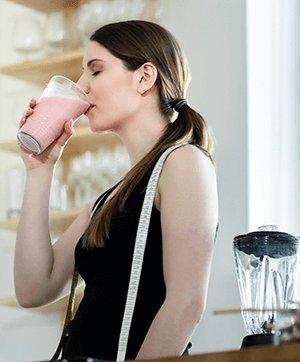 Unfortunately, that's not really the way things work. Eating close to nothing each day can actually be very harmful to your body. If you don't get all the nutrients you need, your body will enter a "starvation mode." When this happens, your body starts holding onto fat and carbohydrate stores instead of burning them. It does this to try to hold onto as much energy as possible in case it runs out of food. Instead of burning fat, your body starts to break down your muscle tissue and even your bones and internal organs in some cases.
Weight loss shakes provide a healthy way to lose weight, helping you shed fat while maintaining muscle mass and bone health. These shakes are high in protein and fiber to fill you up and keep your body running smoothly.
However, it is important to keep in mind that weight loss shakes alone are not a sustainable way to lose weight. If you are using weight loss shakes for breakfast but are eating fried food the rest of the day, you won't see the results you are looking for. Making healthier food choices at every meal and working to incorporate an exercise routine in your schedule will help you reach your fitness goals.
The Health Benefits of Weight Loss Shakes
As their name implies, weight loss shakes are designed to help you lower your total body weight. They can also have a few other health benefits. These shakes help you accomplish your goal in a few ways.
AN OPTION TO AVOID UNHEALTHY MEALS
Everyone has that one food that gets their mouth watering and seems nearly irresistible. The worst part about it is that these foods often tend to be unhealthy and are rarely good candidates for a dieting program.
Sometimes, the draw to these foods is convenience. With work, school, family, errands, and more, finding time to sit down and eat a healthy meal can be difficult. This dilemma often ends with an indulgence in fast food. Weight loss shakes provide a healthy option, and they are super convenient, as they can be consumed anytime and anywhere. This can allow you to skip the drive through, no matter how badly it seems to be calling your name.
SLOWED DIGESTION AND INCREASED SATIETY
Weight loss shakes often contain high amounts of fiber. Most types of fiber aren't easily digestible by the body and therefore do not contain many nutrients or calories. So why are they included? Since the gut can't break down fiber, it sits in the stomach and travels through the digestive tract relatively untouched.
While fiber doesn't provide your body with much nutritional value, it does help to keep your stomach feeling fuller for longer. This reduces feelings of hunger and helps to prevent cravings. Fiber can also help slow down the digestive process, preventing your body from all of the fat and carbohydrate that you eat.
BETTER GENERAL HEALTH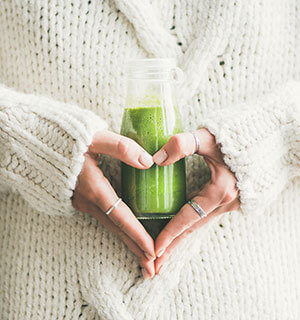 These health drinks are packed with vitamins and minerals, including: vitamin A, vitamin D, calcium, folic acid, magnesium, and many more. All of these nutrients play important roles in the body, and they are needed to keep various chemical processes working. Some of these vitamins and minerals can't be made by the body on its own, meaning that you need to get them through your diet.
This is the reason why it's so important that you take a daily multivitamin. However, weight loss shakes include many of the same nutrients found in multivitamins, preventing you from needing to take two supplements while providing your body with extra energy and benefits.
IMPROVED MUSCLE GROWTH
One of the most commonly found ingredients in weight loss shakes is protein powder. Protein is composed of various amino acids, which are used to build new tissues and repair damaged cells throughout the body. Amino acids can also help your body produce extra energy, increasing alertness and overall energy levels. When a weight loss shake is used in tandem with a workout plan, you can see increased muscle and strength gains due to the extra protein supplementation.
What to Look for When Buying Weight Loss Shakes
Weight loss shakes all differ from one another, and so it would be literally impossible for us to list every ingredient used in these products. However, we have noted some of the most commonly used ingredients and the health benefits associated with each.
PROTEIN POWDER
Protein is one of the biggest components of these shakes. Protein is dense, meaning that it contains lots of nutritional value without adding many extra calories to a drink. This nutrient is full of amino acids, which work to stimulate the synthesis of muscle and other tissues while providing energy for the body. Certain amino acids, known as branched-chain amino acids, are especially important in these processes.
Protein comes in a variety of forms, but the two most common are casein and whey. Casein protein is harder for the stomach to digest, so it does not get absorbed as quickly as whey protein. It plays important roles in decreasing feelings of hunger, stimulating muscle growth, and reducing muscle breakdown. Because of that, it can cause you to have a grumbly gut sometimes.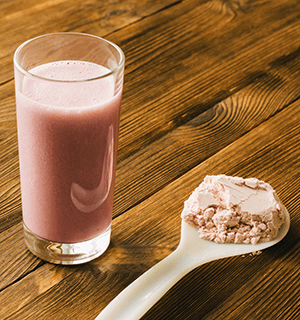 Whey is the most commonly used type of protein and found in three main forms. Isolates are the purest form of whey protein. These products typically contain 90 to 95 percent lean protein, making them the healthiest option, especially when it comes to weight loss shakes.
Hydrolysates and concentrates are similar in composition to one another. The amount of protein in these products varies from 60 to 80 percent. The remaining portion of the mixture is composed of fats and carbohydrates. If you are looking for the healthiest shake option, searching for a product that contains whey protein isolate is generally a good choice.
CAFFEINE AND GREEN TEA EXTRACT
Some weight loss shakes also include stimulants such as caffeine and green tea extract. These ingredients are known to have an impact on your body's metabolism, which can directly impact your weight loss. One study found that caffeine can boost fat metabolism by up to 29 percent, which can be a huge boost for your weight loss goals.
Stimulants also have a major effect on energy levels. These ingredients can increase alertness, energy, and focus, which can help you get through long days or give you motivation to get to the gym or complete other tasks on your to-do list. In addition, stimulants can also inhibit feelings of hunger, making it easier to stick with a diet plan and decrease the urge for snacking throughout the day.
CALCIUM AND VITAMIN D
These two minerals work hand in hand to promote bone health. Calcium is absorbed by the bones, helping to keep them strong and reducing the risk of developing osteoporosis. Vitamin D is needed to transport calcium from the blood into the bones.
Calcium also plays a role in muscle contraction. Every time a muscle contracts, calcium is released by the body into the muscle tissues to allow cross bridges to form between muscle fibers. These cross bridges allow muscles to lengthen and shorten. Providing your body with plenty of calcium can help to keep your muscles and nerves healthy.
B VITAMINS
There are many B vitamins. Two of the most important are B-6 and B-12. Vitamin B-6 is necessary for producing new blood cells, which transport oxygen through the blood stream to tissues all over the body and keep them healthy. This is especially needed during exercise as the muscle cells begin to exhaust themselves.
Vitamin B-12 plays a major role in nerve health. Nerves are responsible for transporting messages to the brain from all over the body and vice versa. If nerves become damaged, it can result in pain, numbness, tingling, and other health issues.
The Proper Dosage for Weight Loss Shakes
In most cases, weight loss shakes are developed so that an individual serving has between 90 and 400 total calories. The formulas for these products are designed to provide maximum nutritional value for the number of calories provided.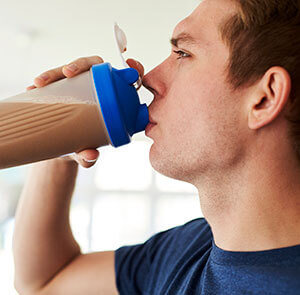 Products with higher calories are often designed to be used as meal replacement options. Drinking them as snacks can actually cause your daily caloric intake to increase, causing weight gain as opposed to weight loss. If you are looking to use a weight loss shake as a snack throughout the day, a lower-calorie option is probably a better choice.
These lower-calorie shakes can be used as meal replacements as well. Although the total calories may seem quite low, there are tons of nutrients to provide you energy. At the beginning, it may seem difficult and you may feel hungry, but your body will adapt over time.
In addition to total calories, looking at the breakdown of the three main nutrients — fats, carbohydrates, and proteins — is also important. Some products contain more fat than others, and this can be due to the fact that these products are cheaper to manufacture. It is important to look at the quality of the mixture you are purchasing because it can make a big difference in the results you see from taking it.
Possible Side Effects of Weight Loss Shakes
For the most part, weight loss shakes don't carry many side effects. However, everyone can react differently to a supplement, so it is often helpful to start out with a lower dose of a new product so that you can recognize potential side effects or negative reactions.
Many side effects that are associated with weight loss shakes affect the digestive tract. Stomach pain and discomfort, along with constipation, can occur. Frequent bowel movements and diarrhea are also known to occur. Sometimes, these issues can appear initially but may subside as the body gets accustomed to a new diet.
Allergic reactions are also a cause for concern. Reaction severity can range widely, and more severe reactions can result in difficulty breathing or other health problems. If you are intolerant or allergic to lactose, you should ensure that your chosen weight loss shake does not contain protein sources that are derived from lactose to prevent issues.
Like most supplements, the Food and Drug Administration does not regulate weight loss shake supplements. This allows companies to manufacture products that may have harmful ingredients that could cause additional side effects. Choosing a product from a reputable brand generally prevents this type of complication from occurring.
Best Weight Loss Shakes
Our top 10 list of weight loss shakes is organized to reflect what you most value in your supplements. First and foremost is quality. All of our top ten supplements meet high standards of quality and come from brands with a proven record in excellence and purity. Another important factor in deciding the top ten was cost. You don't have to pay through the nose to get a high-quality weight loss shake. In addition, all the companies represented on our list have stellar records with customer service and prompt shipping. This ensures that your supplement experience is enjoyable from the first click to your final dose.
We are a participant in the Amazon Services LLC Associates Program, an affiliate advertising program designed to provide a means for us to earn fees by linking to Amazon.com and affiliated sites.