2019's 10 Best

Stimulant-Free Pre-Workout
Your Better Workout Without Over-Stimulation
Whether you are sensitive to stimulants or simply prefer to workout in the evenings, your training sessions and results could benefit immensely from a stimulant-free pre-workout. A quality pre-workout helps you zone in, amplify energy levels, intensify strength, and prolong endurance so you can get more out of your workout.
A dependable pre-workout is an integral part of your training and supplementation regimen, but it can be hard to find quality products that are packed with concentrated stimulants. We've collected the top 10 highest rated, most popular, and best-selling stimulant-free pre-workouts below. Best of all, each one is backed by an iron clad 60-day money back guarantee!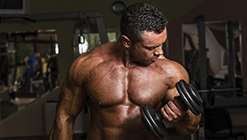 We are a participant in the Amazon Services LLC Associates Program, an affiliate advertising program designed to provide a means for us to earn fees by linking to Amazon.com and affiliated sites.