2018's 10 Best

Men's Multivitamins
Improve Your Nutrient Intake
You eat a healthy, balanced diet, so you should get most of the nutrients you need – right? Wrong. The average diet is chronically low in crucial vitamins and minerals, which is why doctors recommend daily multivitamins to help fill your nutritional gaps – especially for athletes who put their body through the ringer.
We rated the top 10 best performance multivitamins for men that help you maintain – and even gain – hard earned lean muscle, stay energized, and perform at peak levels. Each product absorbs easily and quickly to replenish nutrient stores and keep your body functioning at maximum performance.
We're so confident in this list, each product that made the cut is backed by a 60 day money back guarantee.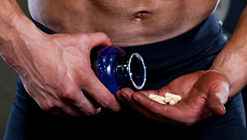 We are a participant in the Amazon Services LLC Associates Program, an affiliate advertising program designed to provide a means for us to earn fees by linking to Amazon.com and affiliated sites.