2018's 10 Best

MCT Oil Powder Supplements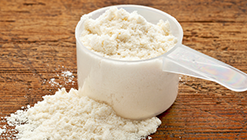 Find the Best MCT Oil Powder Supplement For Your Lifestyle
MCT Oil Powder is derived from Coconut and made up of several medium-chain triglycerides that provide efficient energy via conversion to ketones, along with various health benefits that include weight loss support, boosted immunity, enhanced cognition and memory.
There are four different medium chain triglycerides, each containing a different number of carbons atoms attached to fatty acids. C6, known as Caproic Acid, is a quick energy source that converts quickly to ketone bodies. C8, or Octanoic Acid, is highly sought after in MCT oil products, and boosts ketone levels higher than C10 or C12. C8 is more abundant than C6 since C6 is a small component in palm and coconut oil products. C8 also contains vital anti-microbial properties that are beneficial to overall health.
C10, or Decanoic Acid, is similar to C8 in that it metabolizes quickly, although slightly slower to convert to energy in comparison. Lastly, C12, known as Lauric Acid is the slowest of the MCTs to metabolize, due to the fact that it needs to be converted to energy directly in the liver. It is the main component found in coconut oil, making up nearly half.
Powders typically consist of starch derivatives or milk proteins such as Maltodextrin, Sodium Caseinate, Soluble Corn Fiber, and Soy Lecihin. Most MCT powders contain 50-80% MCT oil, with the remaining percentage being the powder carrier (fiber).
Best MCT Oil Powder Supplements
Our top 10 list of MCT Oil Powder supplements is organized to reflect what you most value in your supplements. First and foremost is quality. All ten of or top ten supplements meet high standards of quality and come from brands with a proven record in excellence and purity. Another important factor in deciding the top ten was cost. You don't have to pay through the nose to get a high quality supplement. In addition, all the companies represented on our top ten list have stellar records with customer service and prompt shipping to ensure that your supplement experience is enjoyable from the first click to your final shake.
We are a participant in the Amazon Services LLC Associates Program, an affiliate advertising program designed to provide a means for us to earn fees by linking to Amazon.com and affiliated sites.