2018's 10 Best

Low Calorie Protein Powders
Build Muscle Without Gaining More Stubborn Fat Deposits
Protein is a crucial nutrient for muscle growth, recovery, and strength. Unfortunately, the majority of protein powders are packed with excess carbohydrates, unhealthy fats, and hundreds of calories that can cause weight gain and loss of muscle definition.
For those who watch their calories and are careful about they eat, low-calorie protein powders are a convenient, low-cost effective way to support muscle mass without the risk of fat gain. Check out the 10 Best Low-Calorie Protein Powders for the leading options to support muscles, enhance performance, and keep your body in peak shape.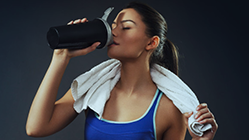 We are a participant in the Amazon Services LLC Associates Program, an affiliate advertising program designed to provide a means for us to earn fees by linking to Amazon.com and affiliated sites.