2018's 10 Best

L-Glutamine Supplements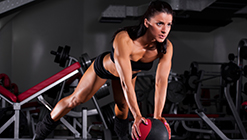 L-Glutamine – Non-Essential Amino But Essential For Health
L-Glutamine (often just referred to as glutamine) is a conditionally essential amino acid that performs vital functions in our bodies. It is also the most abundant amino acid in our bodies, and the most abundant free amino acid in our blood. It has many functions from helping to remove harmful ammonia in the blood to aiding and supporting normal brain and gut function. [1]
In addition to the important role that L-Glutamine normally plays in our bodies, L-Glutamine can be even more vital in times of stress or during and after illness. If our body's glutamine stores are decreased during these times of increased stress, we are more prone to infection and to losing muscle mass, and we may see a decrease in the efficiency of other body functions. [1]
What is L-Glutamine?
L-Glutamine is a versatile amino acid molecule with a large number of benefits and functions in your body. Some of the most prominent functions are listed below. See the #1 L-Glutamine Supplement now.
A Conditionally Essential Amino Acid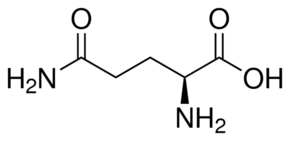 L-Glutamine is a conditionally essential amino acid. Amino acids are molecules in our bodies that are used to build enzymes and other proteins. L-Glutamine is the most abundant amino acid, so it is essential for regular protein and enzyme function. Essential amino acids are amino acids that our bodies cannot produce, and so must be obtained in our diet, especially in times of stress. [2]
A Neurotransmitter
In addition to being used in our bodies to build proteins, L-Glutamine also functions as a neurotransmitter. Neurotransmitters are molecules in our bodies that allow neurons, or nerve cells, to send signals to each other. This means that glutamine is not only important for your muscles, but also for brain and cognitive function. [3]
An Energy Source
Amino acids are often used in our bodies in a process known as gluconeogenesis. Gluconeogenesis is the process of creating glucose (a simple sugar) from scratch. Our bodies do this when our blood glucose levels are low, and we need energy. Also, this is the normal way that certain cells in our bodies get energy, for example, brain cells and enterocytes (the cells in our intestines). Because of this effect, it is believed that glutamine helps to stabilize blood sugar levels over time, in addition to supporting the proper functioning of our brains and intestines by providing them needed energy. [2][3]
How does L-Glutamine work?
L-Glutamine has many functions, and each of its functions works by way of a different mechanism. Below are some of the most important functions of L-Glutamine and the mechanisms for each.
Muscle Building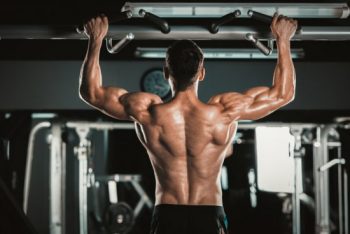 L-Glutamine is the most common amino acid in our bodies. [2] This is because it is used a lot in proteins and tissues that are particularly protein rich, like muscle tissue. When building muscle, then, it makes sense that we will need a lot of glutamine. But glutamine also has other functions it's needed for in the body. If there isn't enough glutamine in our blood to supply the needs of other parts of our bodies, our bodies begin a process called catabolism. Catabolism is the breaking down of large molecules (in this case, the proteins in our muscles) to use the pieces in other places in the body. Muscle catabolism can undo the work you put into building and maintaining your muscles. [4] That is why supplementing with L-Glutamine is not only important for building muscle, but also for maintaining it. See the #1 L-Glutamine Supplement now
Digestive Support
Our bodies use a lot of glucose. We even use glycogen, a molecule made up of many glucose molecules, to store energy. Because of this, we sometimes need to find sources for glucose other than the glucose in our diets. One source is the glucose that our cells make. In our intestines, enterocytes use glutamine in this way as a source of energy and as a means to prevent fatigue. [4] Our kidneys and brains can also create glucose in this way. All of this means that if we aren't getting enough glutamine, many parts of our bodies, including our digestive system, can suffer the consequences. [4] There is also some evidence that glutamine may aid digestion in other ways, for example, by supporting our bodies in creating the proper amounts of mucus, but more research is needed to confirm these findings. [3]
Wound Recovery and Recovery from Chronic or Severe Illness
L-Glutamine is constantly being used in our bodies. Normal function in multiple systems is dependent on proper blood glutamine levels. When our bodies undergo trauma or severe stress or illness, cortisol levels increase in our bodies and glutamine stores can be depleted at the same time. This is one of the reasons why we often feel sick after we experience a lot of stress, and why athletes often catch illnesses after grueling workouts or intense performance. Supplementing with L-Glutamine can alleviate some of these symptoms and lead to enhanced recovery. [1]
In addition to general stress, recovery from trauma and damage to muscles specifically can be alleviated by L-Glutamine supplementation. This is simply because our bodies have to make more protein when protein rich tissues like muscles are damaged, and when our bodies need to build protein, glutamine is one of the amino acids that is highest in demand. [3]
Immune System Support
Just as our bodies use L-Glutamine for energy in intestinal and brain cells, our bodies' defense cells (leukocyte) also use glutamine for energy (See 'Digestive Support' above) . Because of this, in order to maintain a healthy immune system, keeping glutamine levels up is essential, especially in times of strain when our glutamine stores are often running low. [4]
What Foods Have L-Glutamine?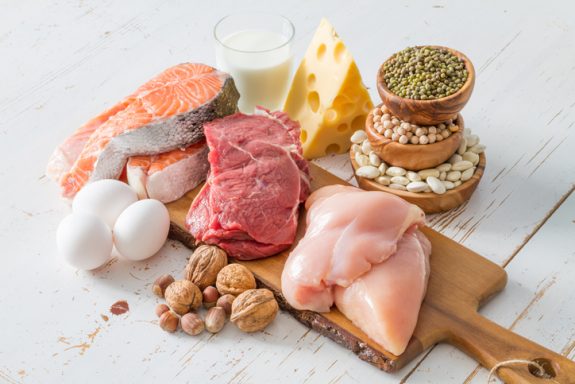 L-Glutamine is found in any food you eat that has protein. It is most abundant in whey and casein protein (found in dairy products), as well as in meat, eggs, tofu and in certain grains (like corn and rice). If you have a low protein diet, or find it hard to get enough protein in your diet, you could be glutamine deficient.
Why should I Take L-Glutamine?
You should use L-Glutamine if you don't get enough in your diet (see 'What foods have L-Glutamine?' to check if you could be low in glutamine), or if you suspect your glutamine levels are low because of stress, recent trauma or injury, illness, chronic or severe disease, or if you perform intense regular exercise. See the #1 L-Glutamine Supplement now
Because some of the causes of low glutamine levels are hard to plan on (like stress and illness), it might be a good idea to have some glutamine on hand in case you need it. [5] In addition to helping you keep your glutamine levels up, many people use glutamine to help them with the effects of other conditions. Many of glutamine's positive effects are well proven. In addition to those, there are many suspected positive effects that L-Glutamine may have that need more research. As a safe and effective supplement, glutamine may be worth a try if you have any of the following conditions:
Neuropathy (Nerve pain)
Stomach Ulcers
Ulcerative colitis
Crohn's disease
Depression
Irritability
Anxiety
Moodiness
Insomnia [5]
What Dose Should I Take?
Glutamine dosages can vary widely from person to person and from use to use. If you're new to glutamine and your doctor has not already recommended a dose, start with a couple grams a day (1-3), either divided up into doses of 500 to 750 mg or all at once, and build up your dose until you feel the effects that you want. People who use glutamine for recovery from intense exercise or to treat chronic disease may want to start with a higher dose (around 5-6 grams) and increase by larger increments. If you are taking much more than 20 grams a day, talk to a physician before increasing your dose. As with all supplements, stop using and consult a physician if you experience any unwanted side effects. [6]
What Are The Side Effects?
Because L-Glutamine is found in large amounts in the body, normal supplementation is usually accompanied by no or few side effects. In the cases where side effects occur, they are usually minor, and may include the following:
Stomach or intestinal problems (nausea, vomiting, stomach pain, gas)
swelling in your hands or feet
muscle, joint or back pain
headache
dizziness
tired feeling
mild skin rash or itching
dry mouth
runny nose
increased sweating [7]
chest pain
hearing problems
signs of an infection (fever, chills, sore throat, etc.) [7]
Is L-Glutamine Safe?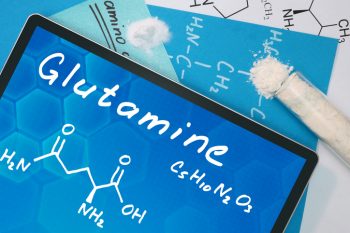 Yes! L-Glutamine is found in the food you already eat, there just isn't enough of it to meet your needs. In addition, your body makes L-Glutamine every day in an effort to provide your organs with a little extra useful glutamine. L-Glutamine is both natural and safe. However, some people should avoid supplementing with extra glutamine as interactions with certain drugs and conditions are not well known or are suspected to be negative. [1] For information on the interaction of medications with L-Glutamine see 'Are there any medications I can't take with L-Glutamine', below. See the #1 L-Glutamine Supplement now
Certain groups of people should be careful about taking glutamine and consult with a healthcare professional before using it. Children, as well as women who are pregnant or breastfeeding, should not take L-Glutamine unless suggested by a pediatrician or gynecologist. Also, elderly people, people with kidney or liver disease, a history of having had Reye's syndrome or with psychiatric disorders or seizures should make sure to talk to a physician prior to using glutamine, as some researchers believe extra glutamine could have negative effects on these conditions. [1][5]
Are There Any Medications I Can't Take With L-Glutamine?
L-Glutamine may interact with some drugs you might be taking, so if you are using any medications it might be a good idea to consult a doctor about the effects of L-Glutamine supplementation. Also, if you are taking a medication that is designed to decrease blood ammonia levels (like lactulose) or that is part of a chemotherapy treatment regimen, consult your doctor prior to supplementation with glutamine. [1]
What Should I Look For In My Supplement?
L-Glutamine powder may be sold as either a pure powder or in pills. When looking at a brand to purchase, don't go for anything that has any ingredient other than glutamine and either gelatin or cellulose for the capsule. In some supplements, it might be necessary to see the occasional other ingredient, but not with L-Glutamine. Also, make sure you get a supplement that offers the right amount of glutamine. Dosages can vary enormously with glutamine, so decide what dose size is appropriate for your needs before buying. Pill forms will usually offer less glutamine both in total and per dose, but they can be easier to take, which is important because some brands can taste awful. Check reviews to see how tolerable the taste of a particular brand is if you're going with the powder form.
Best L-Glutamine Supplements
Our top 10 list of L-Glutamine supplements is organized to reflect what you most value in your supplements. First and foremost is quality. All ten of our top ten supplements meet high standards of quality and come from brands with a proven record in excellence and purity. Another important factor in deciding the top ten was cost. You don't have to pay through the nose to get a high quality supplement. In addition, all the companies represented on our top ten list have stellar records with customer service and prompt shipping to ensure that your supplement experience is enjoyable from the first click to your final pill.
We are a participant in the Amazon Services LLC Associates Program, an affiliate advertising program designed to provide a means for us to earn fees by linking to Amazon.com and affiliated sites.