2022's 10 Best

HMB Supplements
Published: May 3, 2019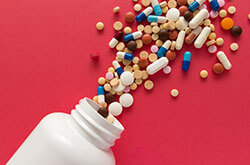 HMB or beta-hydroxy-beta-methylbutyrate is a metabolite, or breakdown product, of the essential amino acid leucine. The body makes HMB by breaking down leucine found in protein-dense foods. These include, but are not limited to, red meat and fish.
When you consume these protein-rich foods, natural HMB levels within your body will rise. The difficulty with this method of supply is that only about 5% of the leucine consumed from proteins gets turned into HMB. Additionally, leucine is present in these protein in relatively small amounts.
While your body can produce HMB naturally through diet, HMB can also be harvested directly from food sources such as fish, grapefruit, and alfalfa. To help get a jump on the amount of HMB floating around in your body, you can look to an HMB supplement as a great option.
The recommended dosage for HMB supplementation is 3 grams daily split into 2-3 equal servings. Multiple daily servings are recommended because HMB gets cleared from the system fairly quickly. Servings should be taken about an hour prior to workouts, and then immediately afterward. However, some people may prefer to take their dose first thing in the morning and then again in the evening.
HMB supplements are available in both tablet and powder forms. Some supplements use calcium-HMB for easier absorption by the body, while others use a free-acid form of HMB. Calcium-HMB is the much less costly version of this compound.
If you are looking to add this supplement to your dietary regimen, then take a look at the ten best HMB supplements in this category:
We are a participant in the Amazon Services LLC Associates Program, an affiliate advertising program designed to provide a means for us to earn fees by linking to Amazon.com and affiliated sites.