2018's 10 Best

Echinacea supplements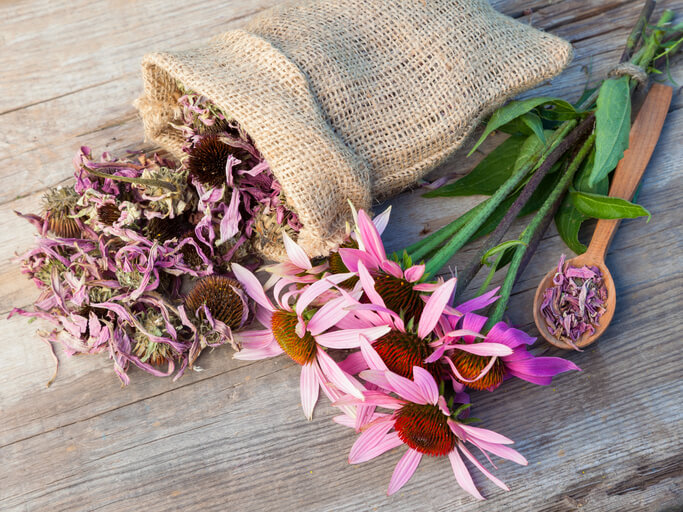 Echinacea is a great immune booster and common anti-inflammatory supplement. You get Echinacea products from a daisy like flower that's found in North America. It has a large spikey head with various ranges of purple colored petals. It also tends to have spikes in the stem, and grows to be 12"-14".
Typically Echinacea is used to boost immune systems and reduce symptoms of the cold and flu. It has been shown in some clinical trials to be effective in helping you recover quicker from illnesses like the cold.
There have been a few studies to show that it can help prevent illness from forming in the first place as well.
It is a really popular herb sold over the counter in several different forms. It comes in a tea, supplement, powder, capsule, or liquid extract. The FDA warns people to make sure they are getting this product from reputable sources, because some companies do not actually include Echinacea in their products.
You can feel safe getting yours from our Top 10 Page, because these are reputable companies with a known track record of great products.
BEST ECHINACEA SUPPLEMENTS
Our top 10 list of Echinacea supplements is organized to reflect what you most value in your supplements. First and foremost is quality. All of or top ten supplements meet high standards of quality and come from brands with a proven record in excellence and purity. Another important factor in deciding the top ten was cost. You don't have to pay through the nose to get a high quality supplement. In addition, all the companies represented on our top ten list have stellar records with customer service and prompt shipping to ensure that your supplement experience is enjoyable from the first click to your final capsule.
We are a participant in the Amazon Services LLC Associates Program, an affiliate advertising program designed to provide a means for us to earn fees by linking to Amazon.com and affiliated sites.