2022's 10 Best

Echinacea Supplements
Updated: September 20, 2019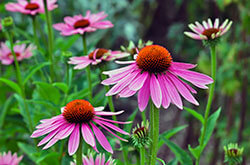 Echinacea is a plant native to North America where it has long been used in alternative medicine as a way of treating the common cold. These days it gets sold as one of the leading dietary supplements available in the current market. Considered an herb by many, echinacea seems to have many uses other than as a remedy for the common cold. Several species of this plant are also used for their therapeutic value.
History of Echinacea
If you're looking for a plant with an interesting history, then echinacea won't disappoint. The plant has been in use for well over 400 years by the Native tribes of the Great Plains. It has a long history as an antiseptic and analgesic. People have used it to treat poisonous insect and snake bites, as well as cure toothaches and sore throats. Echinacea has even been used to treat communicable diseases like mumps, smallpox, and measles.
Its diverse use was adopted by the early American settlers who used it as an herbal remedy. At one point in time, echinacea was even used as a treatment for saddle sores on horses. When introduced to Europe in the 1890s, the herb gained popularity in Germany. Research completed by German doctors indicated that the plant could be effective for its ability to increase the number of white blood cells in the body. This idea reinforces the concept of echinacea's immune-boosting properties and infection-fighting potential.
Researchers have identified echinacea as possessing anti-inflammatory, antioxidant, and anti-viral properties. All these features make it an immune-strengthening agent. It's no wonder that echinacea held an esteemed medicinal status before the influx of antibiotics in the 1950s.
In the world of supplements today, echinacea is commonly used as an over-the-counter herbal remedy for the common cold and flu. However, its uses also extend to treating, pain, inflammation, and migraines among some others.
Composition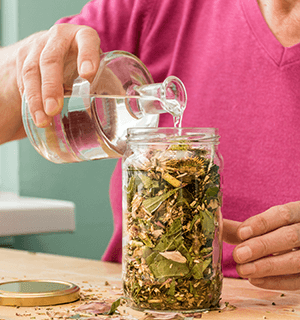 Botanically, the echinacea plant contains different chemicals in different parts. For instance, the roots come with a greater concentrations of volatile oils. But parts exposed above the soil have more polysaccharides. Both parts are used in supplemental form when manufacturing tablets, teas, tinctures and extracts.
There is a fair variety of compounds found in echinacea that lend it its therapeutic potential. For instance, you can find compounds like caffeic acid, phenolic acids, alkamides, and polyacetylenes. Together, these work to provide health benefits like reducing inflammation and improving immunity. They can even help lower blood glucose levels.
Health Benefits of Echinacea
Many of echinacea's known health benefits only come to us from its long history of use by the native tribes of North America and adoption by early American settlers. Recent research in this field has been able to establish some of these benefits, if not all, with the following being the most prominent:
ANTIOXIDANT PROTECTION
Many of the plant compounds found in echinacea work as antioxidants. This means they provide cellular protection against oxidative stress. Found primarily in the flowers and fruit, these antioxidants preserve cellular integrity and function.
To further enhance the anti-oxidative capacity of echinacea, compounds known as alkamides can renew worn out antioxidants. This mechanism helps the antioxidant compounds get to molecules vulnerable to oxidative stress.
IMMUNE PROTECTION
Some evidence suggests that echinacea may help the immune system ward off infections and viruses. This action is practical for recovering from an illness faster. This feature can also help prevent a cold from occurring in the first place or help shorten its duration. Using echinacea works best if taken at the first signs of a cold.
MAY REGULATE BLOOD GLUCOSE LEVELS
Another potential benefit of echinacea appears to be its ability to lower blood glucose levels. One study investigated its antioxidant and antihypertensive effects. The results suggested that the extract from the plant could improve and manage these tendencies. The study found that the extract could potentially suppress enzymes that digest carbohydrates. This process would then limit the amount of sugar consumed from entering the blood.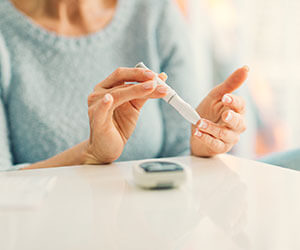 Another similar study found echinacea extract making cells more sensitive to insulin's effects. This was achieved by activating the PPAR-y receptor which helps manage insulin resistance and type 2 diabetes. PPAR-y removes excess fat present in the blood which can be a risk factor for insulin resistance. Removing the fat makes it easier for cells to respond to insulin and sugar.
The one limitation with this research is that these are test tube studies, and human-based research in this area is lacking.
MAY REDUCE ANXIETY
Among other plant remedies, echinacea also seems to have a beneficial effect on reducing anxiety. The compounds found in the plant may potentially reduce feelings of anxiety. As an anti-anxiety supplement, the extract can help regulate synapsis, which assists communication between the body and brain. In this sense, it may limit the physical effects fear has and help you feel calmer.
ANTI-INFLAMMATORY POTENTIAL
Administering echinacea in animal studies has shown a reduction in inflammatory markers. This also includes memory loss caused by inflammation. In human studies, adults suffering from osteoarthritis noted that taking an echinacea supplement relieved associated inflammation. It also reduced swelling and pain of the condition. Interestingly enough, the same subjects didn't respond well to conventional NSAIDs. However, they found relief when using echinacea supplements.
Based on research, echinacea has been suggested as a treatment for rheumatoid arthritis, Crohn's diseases, ulcers, and other inflammatory conditions.
MAY TREAT SKIN CONCERNS
Studies related to skin care show that products containing echinacea extract improved skin hydration. They were also effective in improving wrinkle control. Likewise, another product containing the extract improved eczema symptoms. Alongside this, it also repaired the skin's protective layer on the outside. But given its short shelf life, products containing echinacea may be difficult to use in skin care products manufactured commercially.
How to Use Echinacea
Echinacea is available as a dry powder or liquid extract. You can also buy it in the form of tablets, but one of the most common ways to use echinacea is to drink it as a tea. The strength of the tea will depend on how much you brew it.
Dosage
Echinacea usage is not regulated by the FDA. As such, there is no official dose recommendation for this herb. However, based on research studies, between 300-500 mg of the dry powder extract seems to be effective for immunity. The liquid extract tincture can be taken 3 times daily in doses of 2.5 ml. Or you could take up to 10 ml daily.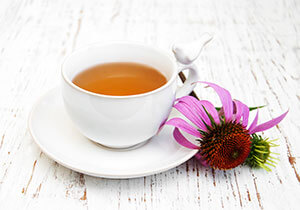 When taken as a tea, 2 teaspoons of dried echinacea root boiled in one cup of water makes up one serving. You can take up to 2-3 servings of the tea to keep your immune system healthy.
The one serious concern with accurate dosage is that many commercially-prepared products appear to be highly variable. This makes it difficult to set a standard recommended dose. Suggested doses often vary based on the product you use.
Since there are no regulated manufacturing standards, some marketed supplements have ambiguous labels. What this means is that the label information may not match the actual ingredients used. So, to verify quality, only buy from an established and reputable company.
Side Effects
When used as recommended, echinacea seems to be safe for consumption. Most people tolerate it well for short-term use. Its efficacy for long-term use remains undetermined. Some minor side effects that have occurred include itchy skin, rashes, hives, or swelling. Some people may also notice digestive symptoms like stomach pain or nausea. Some others may experience shortness of breath.
Anyone with allergies to flowers may present some or all these symptoms. Others with autoimmune diseases should also avoid using echinacea, as it seems to stimulate the immune system. Asthma patients are also advised to not use products containing echinacea.
Anyone taking medications regularly should avoid taking echinacea without consulting with their doctor first, as it may have drug interaction. This could reduce the medications' effectiveness or bring about unwanted side effects. Use of echinacea is also not advised for people who smoke, drink, or use recreational drugs. Most of these substances can affect the way echinacea works.
Best Echinacea Supplements
Our top 10 list of echinacea supplements is organized to reflect what you most value in your supplements. First and foremost is quality. All of our top ten supplements meet high standards of quality and come from brands with a proven record in excellence and purity. Another important factor in deciding the top ten was cost. You don't have to pay through the nose to get a high-quality echinacea supplement. In addition, all the companies represented on our list have stellar records with customer service and prompt shipping. This ensures that your supplement experience is enjoyable from the first click to your final dose.
We are a participant in the Amazon Services LLC Associates Program, an affiliate advertising program designed to provide a means for us to earn fees by linking to Amazon.com and affiliated sites.