2018's 10 Best

BCAA For Women
Experience Better Muscle Recovery With BCAA For Women
With so much of the supplement industry targeted at men, it can be hard for women to figure out which supplements may be beneficial for them in supporting their fitness journey, whether it's gaining muscle, burning fat, or improving endurance. We're here to help examine some of the leading supplements to make the best recommendations to support women's biological needs for all the above.
BCAAs, or Branched Chain Amino Acids are essential amino acids that efficiently optimize muscle growth and recovery, by activating the mTOR pathway within skeletal tissue, which triggers protein synthesis. There are three vital "protein creating" BCAAs: Leucine, IsoLeucine and Valine, which make up three out of the nine essential amino acids. Essential amino acids must be consumed via diet because they can't be synthesized in the body, and are critical for regulating muscular function.
Most BCAA supplements are pretty standard when it comes to including the three BCAAs in a typical 2:1:1 ratio, however those formulated with a woman's needs in mind may feature fat burning ingredients such as CLA, HICA, Green Tea, and more.
Lower levels of testosterone in circulation makes it harder to gain muscle (in comparison to men), so any additional muscle growth promoting supplements, like a high quality BCAA formula, should find a place in every woman's regimen. With formulas designed with women in mind, BCAAs can help promote lean muscle mass, especially while burning fat. Ensuring that you get access to the very best amino acid supplements, we have created a list of the top 10 most popular and most effective BCAA supplements made to help you build your dream physique.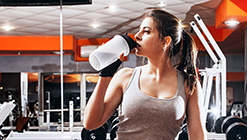 We are a participant in the Amazon Services LLC Associates Program, an affiliate advertising program designed to provide a means for us to earn fees by linking to Amazon.com and affiliated sites.